When Was Land Rover Founded?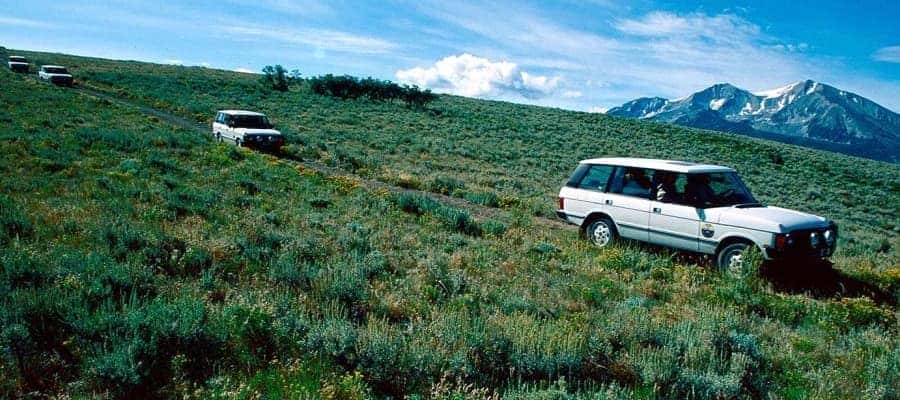 In 1948 Land Rover made its first appearance, however, it began as the name of a model series under the Rover Company. The Rover Company was founded in Warwickshire, England in 1885 and was originally a bicycle manufacturer. You can find out more about Land Rover history and origins below, if you have any more questions you can contact Land Rover Paramus near Saddle River for all of your additional Land Rover needs!
Land Rover Model Series Origins
Chairman Maurice Wilks created the original Land Rover design in 1947 while an engineer at the Rover Company. Wilks worked on the model on his farm in Wales, along with his brother Spencer. Here are some things that you may not know about the original Land Rover model:
The prototype Land Rover was built on a Jeep axle and chassis.
Early Land Rover colors were limited–models were only available in variations of army green due to military surplus of auto paint after World War II.
The Land Rover model was officially released at the Amsterdam Motor Show on April 30, 1948.
Land Rover Company Timeline
1967: Rover Company becomes Rover Triumph, as part of Leyland Motors (later British Leyland Motors).
1970: The Range Rover model is introduced.
1976: The one millionth Land Rover is produced.
1978: Land Rover Limited becomes its own company under British Leyland Motors, 30 years after the creation of the first Land Rover model.
1987: The Range Rover is first released in the United States.
1989: the Land Rover Discovery is introduced.
1994: The Rover Group is acquired by BMW.
2000: The Rover Group is broken up by BMW and Land Rover is sold to Ford
2005: The Range Rover Sport comes on to the scene.
2007: The four millionth Land Rover is produced.
2008: Tata Motors based in Mumbai, India purchases Land Rover and Jaguar from Ford, and creates a new Jaguar Land Rover subsidiary.
2011: The Range Rover Evoque is first released.
2017: The Range Rover Velar is introduced in London.
2018: Land Rover announces the project Cortex which aims to "create self-propelled cars-robots that are able to independently navigate off-road in all weather conditions."
Explore the Land Rover Brand at Land Rover Paramus
The Land Rover brand has much to offer to drivers today, including innovative InControl® technology, to extraordinary off-roading capabilities. Be sure to check our the latest Land Rover models for sale near Ridgewood so you can drive home in a model that is part of the Land Rover legacy.
More From Land Rover Paramus
The new Land Rover lineup is full of high-performance SUVs that can take you anywhere you want to go, but what if you're looking for a Land Rover SUV with third-row seating? There are a number of large families in the Englewood area, and we know that an adventure-ready SUV really only earns the title if it…

The 2020 Range Rover colors come in an exciting variety of hues, and that means that this SUV can be configured to suit just about anyone's taste. Read more to learn about both the exterior and interior premium colors that are offered. When you are ready to select a new Range Rover for your Saddle River…

Are you searching for a new luxury SUV to make those drives around Paramus more enjoyable? The 2020 Land Rover Range Rover Velar has a refined design with a remarkable interior. There's plenty of space for cargo and passengers, along with lots of high-end amenities that are hard to find in its competitors. Explore the Range Rover…