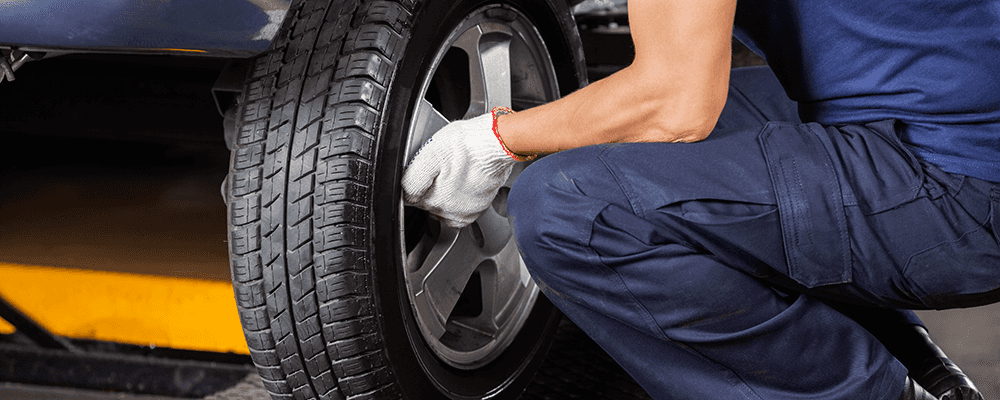 Drivers in the Ridgewood area often reach out to ask how to change a car tire at home, and here at Land Rover Paramus, we're happy to help. Answering the question, "How do you change a car tire?" really only takes a moment, and once you know how, you'll drive with more confidence for all the years to come!
Changing Your Land Rover Tires
Before you get started, make sure that you have everything you'll need on hand. If you're just changing one tire, you'll just need a jack, a lug wrench, and your owner's manual. If you're changing multiple tires or rotating them, a set of jack stands will also come in handy.
You're ready to get the job done! Here's how to change a car tire at home:
Make sure you're in a safe location. Pull over to the side of the road and make sure you're on stable ground. Turn on your hazards, apply the parking brake, and place wheel wedges under the tires you're not changing.
Remove the wheel cover or the hub cap that protects your tire, and use your lug wrench to loosen the lug nuts. Don't take them all the way out just yet; wait until the tire is off the ground.
Place the jack stand underneath the vehicle, at a stable location, and raise it off the ground.
Now you're ready to remove the lug nuts and take the old tire off your vehicle.
Bring the new tire or the spare into place, and retighten the lug nuts as much as you can by hand.
Lower the vehicle and finish tightening the lug nuts! Work in a star pattern to ensure an even finish.
Hoping to try another DIY maintenance task today? Find out how to check your coolant level.
How Often Should You Change Car Tires?
Tires can last for up to ten years, but everything depends on how you care for them over time! Regular tire rotation is essential, and ensuring proper tire pressure will help to limit wear. You should also be sure to check your wheel alignment from time to time.
Think it might be time to replace a tire or trade up for a new set? Most tires come with a tread of roughly ⅓ of an inch. When that tread depth reaches 2/32 of an inch, it's definitely time to replace it.
How Many Miles Can You Go on a Spare Tire?
Most spare tires are only designed to last around 50 miles, and they aren't built to handle very high speeds! We recommend that drivers head straight to a local tire store near Fort Lee or Jersey City, and replace that spare with a new tire that's been built to last.
Most spare tires will have their own particular limits written on the tire wall, so be sure to check there before making any decisions about what to do next.
Our Service Team is Here to Help
You know how to change a car tire on your own, but remember, the Land Rover Paramus team is here to back you up! We've made it easy to schedule tire service online, and since we offer a range of service specials, you're sure to save on maintenance.
More from Land Rover Paramus
The adventure-ready Land Rover Defender is a fantastic option for your next vehicle, especially if you're looking to travel beyond Paramus with all your gear in tow. The impressive 2023 Land Rover Defender towing capacity reaches as high as 8,201 pounds, and its innovative towing technologies mean you'll be able to tow safely, with…

The 2023 Range Rover Sport is powerful and luxuriously appointed—but that's not the only reason that it's a hit with busy families who want to gear up for adventure on the weekends. Our guide to the Range Rover Sport dimensions shows that it's perfect for passengers and those who tend to travel with lots…

Drivers who want to bring home the all-new fifth-generation Range Rover will have a wide range of models to consider. Which 2022 Land Rover Range Rover configuration is right for you? Whether you already have a budget in mind or you just want to get a comprehensive look at your options, our in-depth guide to…